Více než 1000 citačních záznamů získala, dle databáze WOS, publikace autorů F. Otto, A. Dlouhý, Ch. Somsen, H. Bei, G. Eggeler a E.P. George: The influences of temperature and microstructure on the tensile properties of a CoCrFeMnNi high-entropy alloy, Acta Materialia, 2013, vol. 61, p. 5743-5755. Tím se práce zařadila do 1% nejvíce citovaných publikací v oboru
materiálových věd, a to na základě oborového dělení a roku zveřejnění. Unikátní publikované výsledky se týkají struktury a souvisejících mechanických vlastností nové třídy slitin s vysokou konfigurační entropií. Mimo jiné bylo prokázáno, že ekviatomární slitina CrMnFeCoNi dosahuje v oblasti kryogenních teplot excelentní lomovou tažnost až 80% díky mechanismu deformačního dvojčatění, které operuje v rozměrových škálách nano a mikrometrů. Výsledky byly dosaženy díky vzájemné spolupráci tří výzkumných pracovišť, Oak Ridge National Laboratory (USA), Ústavu fyziky materiálů AV ČR v Brně a Ruhr University Bochum (SRN). Odkaz na publikaci.

Závislost zpevnění na skutečném deformačním napětí pro jemnozrnnou slitinu CrMnFeCoNi deformovanou při 77 K (černé symboly), 293 K (červené symboly) a 473 K (zelené symboly). Šedá oblast reprezentuje geometrickou nestabilitu deformovaného tělesa vyjádřenou pomocí Considerova kritéria.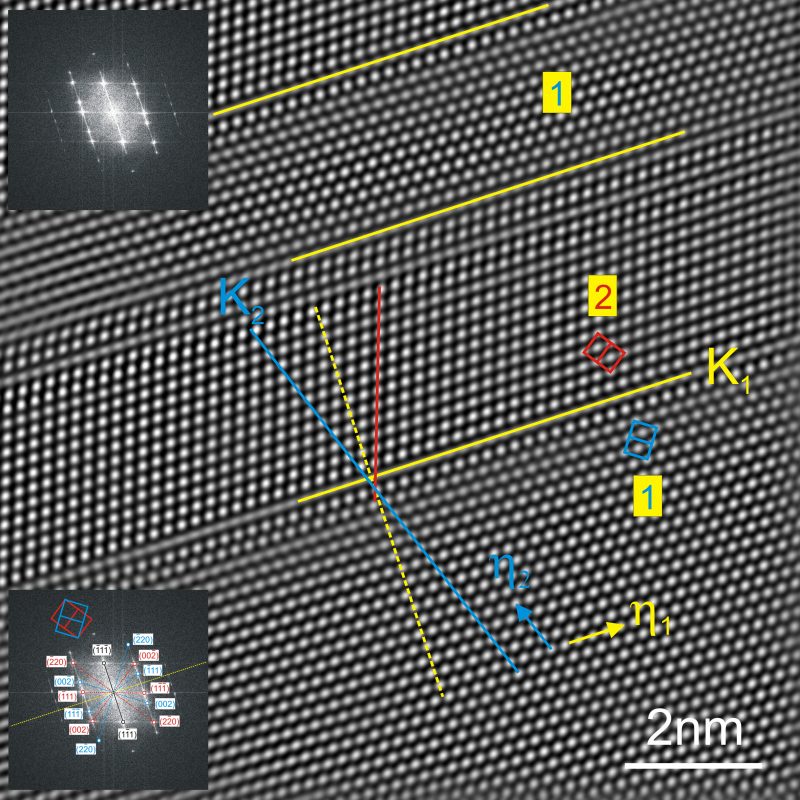 FFT filtrovaný HRTEM snímek charakterizuje mechanismus tvorby deformačních nano-dvojčat v jemnozrnné slitině CrMnFeCoNi deformované 20% při 77 K.