Institute of Physics of Materials AS CR, v. v. i.
>
List of facilities
>
MTS 809 axial – torsional test system
---
MTS 809 axial – torsional test system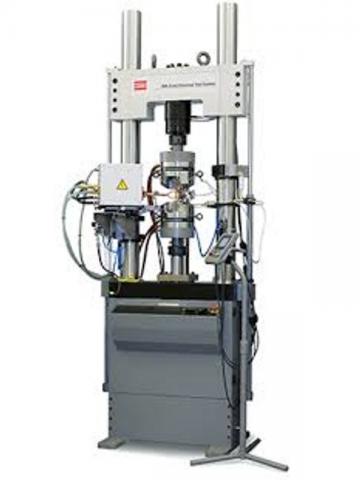 Servohydraulic MTS 809 axial – torsional test system allowing us to perform isothermal fatigue testing with independent bi-axial loading at temperatures from 24°C up to 1400°C.
Computer-controlled fatigue testing machine with axial capacity ± 100 kN and torsional capacity ± 1100 N · m is equipped with a quiet hydraulic pump (25 l / min) and servo valve port of 19 l / min for linear cylinder and 9.5 l / min for rotatory cylinder. FlexTest 40 digital control unit and Test Suite software allow you to use standardized testing procedures, or program your own type of load and perform these tests in force or strain controlled closed-loop regime. The machine is equipped with a split high-temperature resistance furnace with three-channel controller which allows us to perform isothermal tests from room temperature up to 1400 °C. Test temperature is measured using thermocouples attached to the specimen. In the case of high temperature tests the only gauge length of specimen is in the furnace chamber (furnace is about 8 cm high) and the specimen ends are outside the furnace clamped into the water cooled hydraulic collet grips. Exchangeable collets allow us to clamp specimen with a diameter of 18 or 12 mm respectively. Measurement of the longitudinal and axial deformation is carried out using special water cooled axial-torsional extensometer. The working range of the extensometer is 2 % and + -15°. Applications: The testing machine is intended primarily to determine response of the material to cyclical combined biaxial mechanical loading at the constant temperature of 24 °C to 1400°C.